Services and Pricing
MCTA Routes: Monday - Friday from 7:00a.m.-10:00p.m.
Murray Calloway Transit operates a deviated fixed route bus service. This means that in addition to boarding the bus at the specified stops listed on this bus schedule, passengers can request to be picked up or dropped off up to 1/2 of a mile off the bus route. The pickup and drop off locations will be at the curb. Reservations must be made in advance at least the day before. The bus fare for a trip deviation is the same as regular fare. Call 270-753-9725 for further information.
---
Click here to view the Route Times and Locations Larger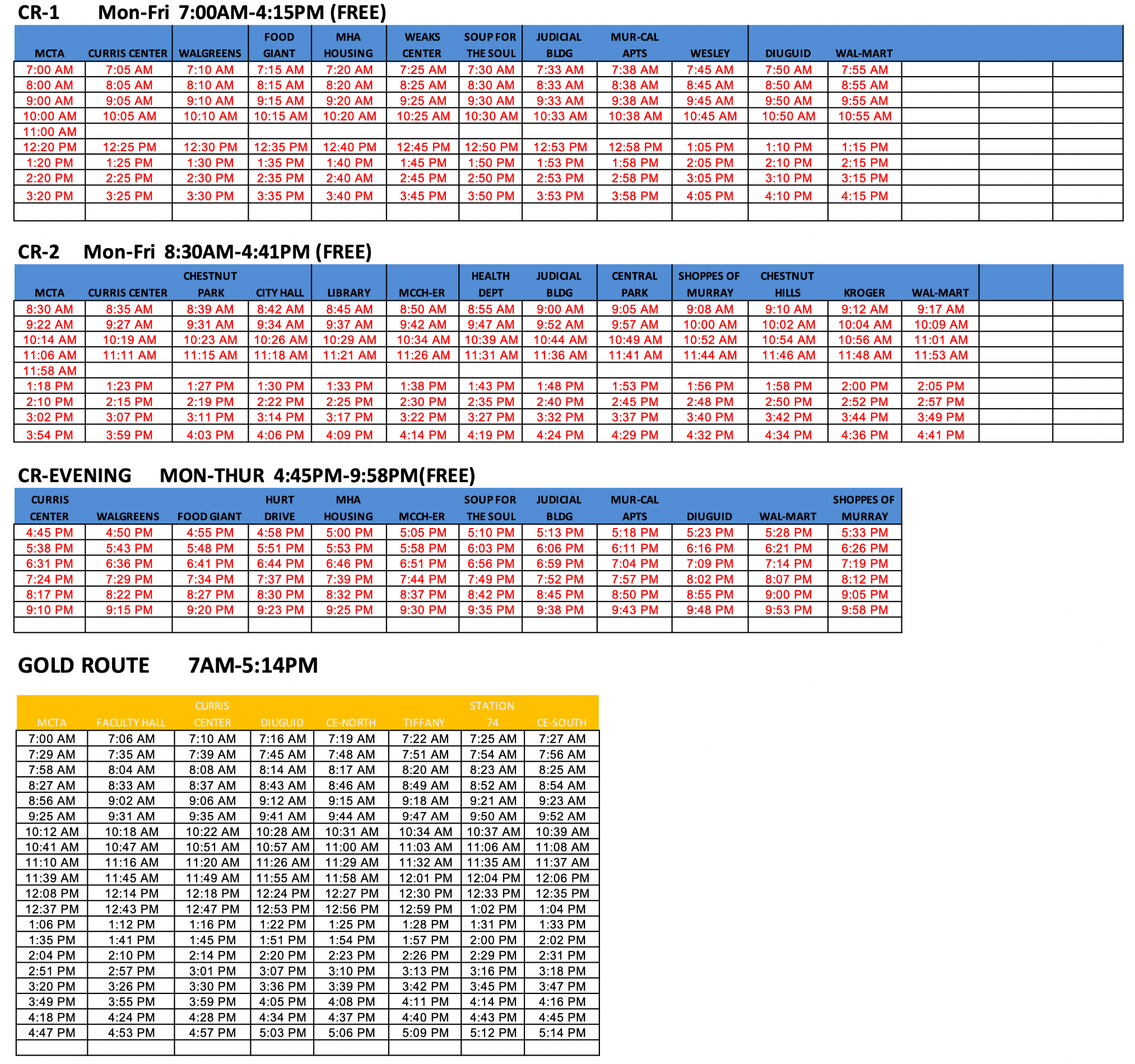 City and County On Demand
MCTA is open Monday-Friday 7:00 a.m. to 5:00 p.m.
On Demand
Prices: $1 city, $3 County
Ages: 0-12 Free with Parent or Guardian
13+ Regular Rates Apply
Out of Zone: $2.00 per mile
$12.00 per hour wait time
Share Ride: $10.00 each way
On Demand Only: Wheel Chair passengers - Escorts ride for Free
Evening Service (Fri & Sat)
5pm-12am – Friday
9am-12am - Saturday
MCTA Routes - Deviated Fixed Route
Community Route #1 - FREE (7:00am-4:15pm Mon-Fri)
Community Route #2 - FREE (8:30am-4:41pm Mon-Fri)
Community Route Evenings - FREE (4:45pm-10:00pm Mon-Fri)
Gold Route $1.00 per ride or $100 unlimited passper semester
(7-5pm Mon- Fri) Gold Route ONLY runs while MSU is in session

Group Outings: MCTA contracts to provide regular transportation services for an organization or group, including group outings. Call for details.

Carry-on-Package (No furniture) – Our goal of providing safe and reliable transportation service to the public requires that we limit the carry-on packages to what the boarding individual can safely bring aboard at one time. No person shall bring or carry aboard a Transit vehicle any package or article of a size that will block any isle or stairway on the vehicle.